---
Community Assessments were conducted by the University of Kentucky's Cooperative Extension Service. These secondary data profiles supplement the survey, focus groups, and key informant interviews conducted in each county across the state through the County Extension Offices and coordinated by Community and Economic Development Initiative of Kentucky.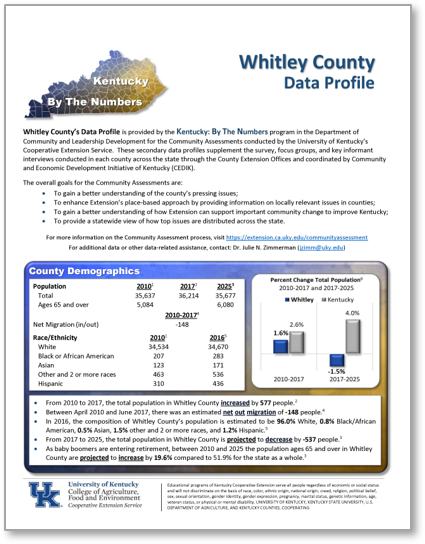 The overall goals for the Community Assessments are:
To gain a better understanding of the county's pressing issues;
To enhance Extension's place-based approach by providing information on locally relevant issues in counties;
To gain a better understanding of how Extension can support important community change to improve Kentucky;
To provide a statewide view of how top issues are distributed across the state.
For more information on the Community Assessment process, visit https://extension.ca.uky.edu/communityassessment
County Data Sheets 
To find your county, click on the file that contains your county name. All counties are listed alphabetically.
To print your county, scroll down to it and print the current page(s) only.
To print the entire series, print all pages in each file.
To view these files, you will need Adobe Acrobat.
Report Style (11x17 paper)
Adair           Butler              Edmonson       Hancock         Knox               Madison          Nicholas     Shelby
Allen            Caldwell           Elliott              Hardin             LaRue              Magoffin         Ohio           Simpson
Anderson     Calloway          Estill               Harlan             Laurel             Marion            Oldham       Spencer
Ballard         Campbell          Fayette            Harrison          Lawrence      Marshall          Owen           Taylor
Barren          Carlisle             Fleming           Hart                 Lee               Martin              Owsley         Todd
Bath              Carroll              Floyd               Henderson      Leslie            Mason             Pendleton     Trigg
Bell               Carter               Franklin           Henry              Letcher         Meade             Perry              Trimble
Boone           Casey              Fulton               Hickman         Lewis            Menifee           Pike               Union
Bourbon        Christian          Gallatin             Hopkins          Lincoln          Mercer            Powell           Warren
Boyd              Clark                Garrard           Jackson          Livingston      Metcalfe          Pulaski         Washington
Boyle             Clay                 Grant               Jefferson         Logan            Monroe           Robertson      Wayne
Bracken         Clinton             Graves            Jessamine       Lyon              Montgomery   Rockcastle      Webster
Breathitt        Crittenden        Grayson           Johnson          McCracken    Morgan           Rowan            Whitley
Breckinridge     Cumberland     Green              Kenton            McCreary       Muhlenberg    Russell            Wolfe
Bullitt             Daviess            Greenup          Knott               McLean          Nelson            Scott               Woodford
District 1         District 2        District 3      District 4      District 5      District 6         District 7     
Regular Size Paper (8.5x11)
Adair           Butler              Edmonson    Hancock        Knox             Madison          Nicholas     Shelby
Allen            Caldwell         Elliott             Hardin           LaRue          Magoffin           Ohio          Simpson
Anderson    Calloway         Estill              Harlan           Laurel           Marion             Oldham     Spencer
Ballard         Campbell        Fayette          Harrison        Lawrence     Marshall          Owen         Taylor
Barren         Carlisle            Fleming         Hart               Lee               Martin             Owsley       Todd
Bath             Carroll             Floyd             Henderson    Leslie           Mason             Pendleton   Trigg
Bell              Carter              Franklin         Henry            Letcher         Meade             Perry           Trimble
Boone          Casey              Fulton           Hickman        Lewis            Menifee           Pike             Union
Bourbon       Christian          Gallatin         Hopkins         Lincoln          Mercer             Powell         Warren
Boyd             Clark               Garrard         Jackson         Livingston      Metcalfe          Pulaski        Washington
Boyle             Clay                Grant            Jefferson        Logan            Monroe           Robertson    Wayne
Bracken         Clinton            Graves          Jessamine     Lyon              Montgomery   Rockcastle    Webster
Breathitt          Crittenden      Grayson        Johnson        McCracken    Morgan           Rowan          Whitley
Breckinridge   Cumberland   Green            Kenton          McCreary       Muhlenberg    Russell         Wolfe
Bullitt               Daviess         Greenup        Knott             McLean        Nelson               Scott           Woodford
District 1         District 2        District 3      District 4      District 5      District 6         District 7     
Data Sources
2010 Decennial Census. U.S. Census Bureau. American FactFinder. https://factfinder.census.gov
2017 Population Estimates. Kentucky State Data Center. http://ksdc.louisville.edu/
Population Projections – Vintage 2016. Kentucky State Data Center.  http://ksdc.louisville.edu/
2017 Population Estimates Components of Change. Kentucky State Data Center.   http://ksdc.louisville.edu/
2016 Population Estimates. U.S. Census Bureau. American FactFinder.  https://factfinder.census.gov
2012-2016 American Community Survey 5-Year Estimates. U.S. Census Bureau. American FactFinder.  https://factfinder.census.gov
2016 Small Area Income and Poverty Estimates (SAIPE). U.S. Census Bureau. https://www.census.gov/programs-surveys/saipe.html
2017 Early Childhood Profile. Kentucky Center for Statistics (Formerly KCEWS).  https://kystats.ky.gov/
Debt in America: An Interactive Map. Urban Institute. https://apps.urban.org/features/debt-interactive-map/
2007 Census of Agriculture. U.S. Department of Agriculture. https://www.nass.usda.gov/AgCensus/
2012 Census of Agriculture. U.S. Department of Agriculture. https://www.agcensus.usda.gov/Publications/2012/
Regional Economic Accounts. Bureau of Economic Analysis. https://apps.bea.gov/itable/iTable.cfm?ReqID=70&step=1
County Business Patterns. U.S. Census Bureau. American FactFinder.  https://factfinder.census.gov
NonEmployer Statistics. U.S. Census Bureau. American FactFinder.  https://factfinder.census.gov
Quarterly Census of Employment and Wages (QCEW). Bureau of Labor Statistics. https://www.bls.gov/cew/   
2018 High School Feedback Report. Kentucky Center for Statistics (Formerly KCEWS). https://kystats.ky.gov/
Local Area Unemployment Statistics. Bureau of Labor Statistics. https://www.bls.gov/lau/  
Kentucky Council on Postsecondary Education. http://cpe.ky.gov/
Kids Count Data Center.  https://datacenter.kidscount.org/  
2017 Early Childhood Profile. Kentucky Center for Statistics (Formerly KCEWS).  https://kystats.ky.gov/
2018 County Health Rankings. Robert Wood Johnson Foundation. http://www.countyhealthrankings.org/
Kentucky Health Facts. Foundation for a Healthy Kentucky. http://www.kentuckyhealthfacts.org/ 
Food and Nutrition Service. U.S. Department of Agriculture. https://www.fns.usda.gov/pd/supplemental-nutrition-assistance-program-snap 
Map the Meal Gap. Feeding America. http://map.feedingamerica.org/ 
Small Area Health Insurance Estimates (SAHIE). U.S. Census Bureau.  https://www.census.gov/programs-surveys/sahie.html
Kentucky Injury Prevention and Research Center (KIPRC). http://www.mc.uky.edu/kiprc/index.html