Race and Ethnicity Age Groups
---
To help in understanding diversity in our communities and provide easy access to data, a multi-pa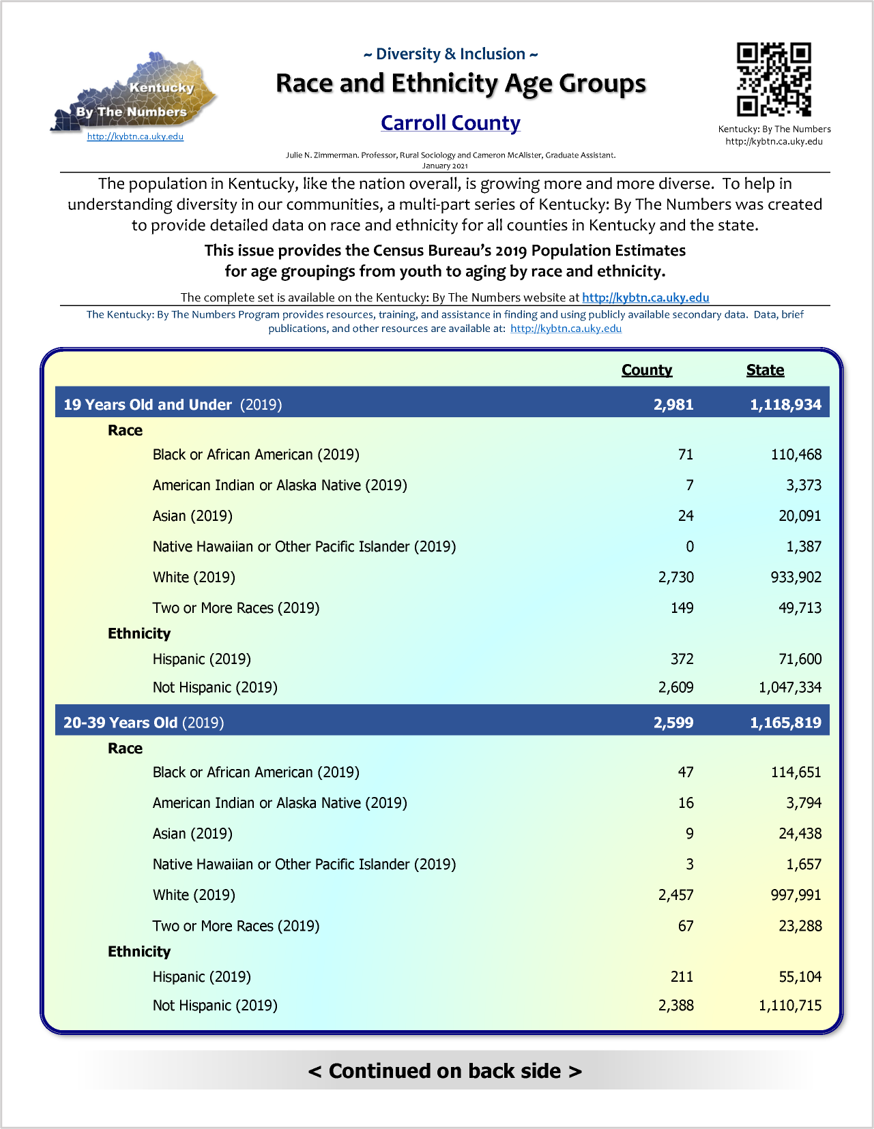 rt series of Kentucky: By The Numbers was created to provide detailed data on race and ethnicity for counties in Kentucky and the state.
This issue provides each county with data from the 2019 population estimates by race and ethnicity for 4 major age groups: youth (19 years and under), younger working ages (20-39 years old), older working ages (40-64 years old), and those 65 and older.
To see the full list of issues in this series, click HERE
County Data Sheets
To find your county, click on the file that contains your county name. All counties are listed alphabetically.
To print your county, scroll down to it and print the current page(s).
~ ~ Each Data Sheet is 2 Pages Long ~ ~
EACH OF THE FILES CONTAINS 10 COUNTIES.
To view these files, you will need Adobe Acrobat.
Adair County through Boyd County
Boyle County through Carlisle County
Carroll County through Daviess County
Edmonson County through Garrard County
Grant County through Hart County
Henderson County through Knott County
Knox County through Livingston County
Logan County through Martin County
Mason County through Nelson County
Nicholas County through Pulaski County
Robertson County through Todd County
Trigg County through Woodford County
 Data Source
These data are from the Census Bureau's Population Estimate Program https://www.census.gov/data/tables/time-series/demo/popest/2010s-countie... 
Additional Population Estimates are available at the Kentucky State Data Center
http://ksdc.louisville.edu/