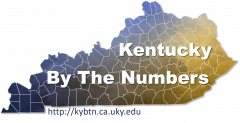 ---
In between each Census, which is conducted every 10 years, the U.S. Census Bureau produces official annual estimates of the population in the United States.
This issue of the Kentucky: By The Numbers Data Series provides updated population estimates by race and ethnicity for counties in Kentucky.
The Population Estimates are also available at the Kentucky State Data Center      at: http://www.ksdc.louisville.edu  
County Data Sheets
To find your county click on the file that contains your county name. All counties are listed alphabetically.
To print your county scroll down to it and print the current page(s) only. To print the entire series, print all pages in each file.
~ ~ Each Data Sheet is 1 Page Long ~ ~
EACH OF THE FILES CONTAINS 30 COUNTIES.
To view these files, you will need Adobe Acrobat.
Adair County through Carlisle County
Carroll County through Garrard County
Grant County through Knott County
Knox County through Martin County
Mason County through Pulaski County
Robertson County through Woodford County
Data Sources Used
The Annual Population Estimate are produced by the U.S. Census Bureau.
Access to the Annual Estimates is available through the American FactFinder website at: http://factfinder.census.gov.