---
Every 10 years, the U.S. Census Bureau conducts the Decennial Census. This is a count of all inhabitants in the United States. Required by the U.S. Constitution, it was first conducted in 1790. Over the decades, the Decennial Census has seen many changes. Most recently, the Census Bureau created the option to respond online.
To see the self-response rate (how many responded online or by phone/mail) for your county, visit the 2020 Census Response Rate Map at:
https://www.census.gov/library/visualizations/interactive/2020-census-self-response-rates-map.html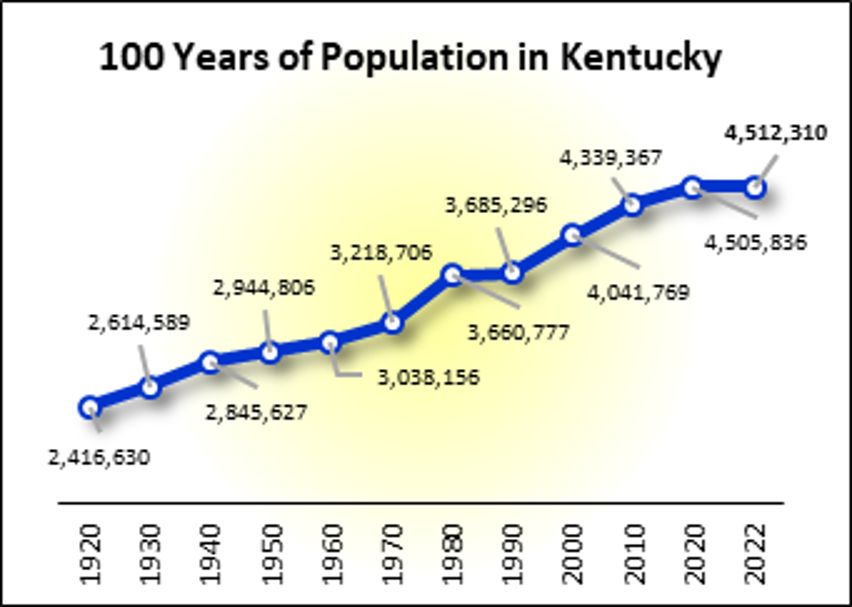 ---
The official population counts are from the Decennial Census or the Census Bureau's population estimates.
(While population data are available from the American Community Survey, they are NOT the official population figures.) To find out more about the history and changes in the Decennial Census, go to: https://www.census.gov/history/www/through_the_decades/overview/
County Data Sheets
To find your county, click on the file that contains your county name. All counties are listed alphabetically. 
To print your county, scroll down to it and print the current page(s) only. To print the entire series, print all pages in each file. 
~ ~ Each Data Sheet is 1 Page Long ~~
EACH  OF THE FILES CONTAINS 5 COUNTIES.
To view these files, you will need Adobe Acrobat.
East Extension Region
          Adair, Bath, Bell, Boyd, and Bracken Counties 
          Breathitt, Carter, Casey, Clay, and Clinton Counties 
          Cumberland, Elliott, Fleming, Floyd, and Green Counties 
          Greenup, Harlan, Jackson, Johnson, and Knott Counties
          Knox, Laurel, Lawrence, Lee and Leslie Counties 
          Letcher, Lewis, McCreary, Magoffin, and Martin Counties
          Mason, Menifee, Morgan, Owsley, and Perry Counties 
          Pike, Pulaski, Robertson, Rockcastle, and Rowan Counties 
          Russell, Taylor, Wayne, Whitley, and Wolfe Counties 
Central Extension Region
          Anderson, Boone, Bourbon, Boyle, and Bullitt Counties 
          Campbell, Carroll, Clark, Estill, and Fayette Counties 
          Franklin, Gallatin, Garrard, Grant, and Harrison Counties 
          Henry, Jefferson, Jessamine, Kenton, and Lincoln Counties 
          Madison, Marion, Mercer, Montgomery, and Nelson Counties 
          Nicholas, Oldham, Owen, Pendleton, and Powell Counties 
          Scott, Shelby, Spencer, Trimble, Washington, and Woodford Counties 
West Extension Region
          Allen, Ballard, Barren, Breckinridge, and Butler Counties
          Caldwell, Calloway, Carlisle, Christian, and Crittenden Counties 
          Daviess, Edmonson, Fulton, Graves, and Grayson Counties 
          Hancock, Hardin, Hart, Henderson, and Hickman Counties 
          Hopkins, LaRue, Livingston, Logan, and Lyon Counties 
          McCracken, McLean, Marshall, Meade and Metcalfe Counties 
          Monroe, Muhlenberg, Ohio, Simpson, and Todd Counties 
          Trigg, Union, Warren and Webster Counties 
Data Source
Data from the 2010 and 2020 Censuses and the 2022 Population Estimates are from https://data.census.gov/
The 1920-1990 data are from the Census Bureau publication Population of States and Counties of the United States: 1790 to 1990 available at: https://www2.census.gov/library/publications/decennial/1990/population-of-states-and-counties-us-1790-1990/population-of-states-and-counties-of-the-united-states-1790-1990.pdf