2017 Female Farm Producers
---
Nationally, in 2017, 1.2 million (36 percent) of the 3.4 million agricultural producers in the U.S. were female producers and farms with one or more female producer comprised 56 percent of all farms. Compared to male producers, female producers are slightly younger and are more likely to live on the farm they operate. In Kentucky, there were 40,192 farms with female producers. Of the 43,501 female producers in the state, 27,212 identified as principle producers. In 2017, farms with female producers in Kentucky comprised 5,223,082 acres and generated $2,087,231,000 in sales.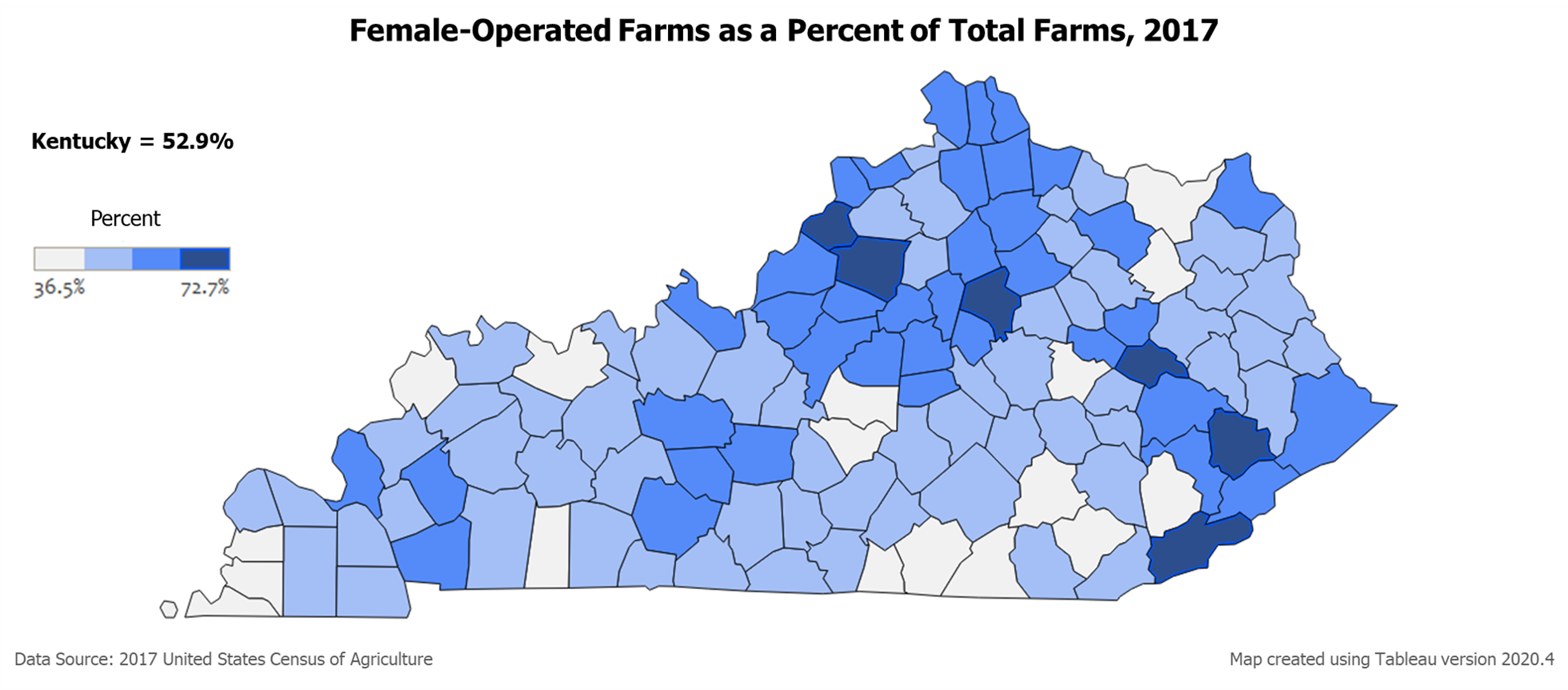 To learn more about producer characteristics in Kentucky, go to:
https://www.nass.usda.gov/Publications/AgCensus/2017/Online_Resources/Race,_Ethnicity_and_Gender_Profiles/Kentucky/cpd21000.pdf
County Data Sheets
To find your county, click on the file that contains your county name. All counties are listed alphabetically.
To print your county, scroll down to it and print the current page(s) only. To print the entire series, print all pages in each file.
~ ~ Each Data Sheet is 2 Pages Long ~ ~
EACH OF THE FILES CONTAINS 10 COUNTIES.
To view these files, you will need Adobe Acrobat.
Adair County through Boyd County
Boyle County through Carlisle County
Carroll County through Daviess County
Edmonson County through Garrard County
Grant County through Hart County
Henderson County through Knott County
Knox County through Livingston County
Logan County through Martin County
Mason County through Nelson County
Nicholas County through Pulaski County
Robertson County through Todd County
Trigg County through Woodford County
 Data Source
These data are from the 2017 Census of Agriculture and are available from the USDA's National Agricultural Statistics Service at: https://www.nass.usda.gov/AgCensus/  
To learn more about female producers in your county, go to:
https://www.nass.usda.gov/Publications/AgCensus/2017/Online_Resources/Race,_Ethnicity_and_Gender_Profiles/Kentucky/
To learn more about female producers in the United States, go to:
https://www.nass.usda.gov/Publications/Highlights/2019/2017Census_Female_Producers.pdf
For data from the 2012 Ag Census, see the 2012 Women Principal Farm Operator issue of Kentucky: By The Numbers https://kybtn.ca.uky.edu/node/5